TAKE A LIFE-LONG LEARNING COURSE!
It is important to always improve yourself and your skills! We have great online courses—from Business to Teaching & Education, Healthcare to Legal --and everything in between. See why lifelong learners take our online personal enrichment courses! All of our Personal Enrichment Courses are 4 weeks long, instructor-led with open-enrollment.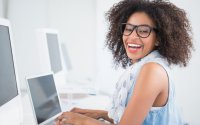 Enhance your life and expand your knowledge and skills through with one or more of our online courses.