Description
Objectives
Outline
Materials
Approvals
System Requirements
Watch a Demo
Hospitality: An Introduction provides a detailed description of the many facets of the Hospitality and Tourism sector, including tours and travel, hotels, restaurants, culinary, casino operations, cruises, and the recreation and leisure industries. Personal profiles of industry leaders highlight the wide range of career opportunities available in the field. This course discusses the Hospitality and Tourism industry's evolution toward increased internationalization and integration. Industry vignettes offer a behind-the-scenes view of real-life job tasks and career success stories. Each module of this course features practical case study scenarios, a description of trends in the field and ways to apply your knowledge. 
 
Prerequisite(s): None
After completing this course, you should be able to:
Define the mission and product of hospitality
Identify factors to consider when managing lodging
Recall the basics of the food service industry and restaurant business and operations
Recognize different types of tourism, recreation and entertainment events, functions, and operations related to hospitality industry
Identify current trends in hospitality and skills needed for management and leadership roles
Hospitality: An Introduction Module 1
Introducing Hospitality
Hospitality through the Ages
Ancient Times
Medieval Times
18th and 19th Centuries
The Interrelated Nature of Hospitality and Tourism
Hospitality Industry Philosophy
Sustainable Hospitality
The Focus on Service
Trends in Hospitality and Tourism
Hospitality: An Introduction Module 2
The Hotel Business
History of Innkeeping in the United States
Hotel Development and Ownership
Franchising
Contracts and Trusts
Classification of Hotels
Best, Biggest and Most Unusual Hotels and Chains
International Perspective
Sustainable or Green Lodging
Trends in Hotel Development
Hospitality: An Introduction Module 3
Rooms Division Operations
The Functions and Departments of a Hotel
Role of the Hotel General Manager
Revenue Management
Reservations
Guest Services
Concierge
Housekeeping
Sustainable Lodging
Security/Loss Prevention
Hospitality: An Introduction Module 4
Food and Beverage Operations
Food and Beverage Management
Kitchen
Food Operations
Bars
Stewarding Department
Catering Department
Room Service/In-Room Dining
Sustainable Food and Beverage Operations
Trends in Lodging Food and Beverages
Hospitality: An Introduction Module 5
Beverages
Wines
Beer
Sustainable Brewing
Spirits
Nonalcoholic Beverages
Bars and Beverage Operations
Inventory Control
Personnel Procedures
Liquor Liability and the Law
Trends in the Beverage Industry
Hospitality: An Introduction Module 6
The Restaurant Business
Developing a Restaurant
Restaurant Market and Concept
Restaurant Location and Ambiance
Sustainable Restaurants
Menu Planning
Equipment Capacity and Layout
Price and Pricing Strategy
Classification of Restaurants
Trends in the Restaurant Business
Hospitality: An Introduction Module 7
Restaurant Operations
Front of the House
Restaurant Forecasting
Service
Suggestive Selling
Sustainable Restaurant Operations
Back of the House
Food Production
Management Involvement
Purchasing and Receiving
Storing and Budgeting
Restaurant Accounting
Hospitality: An Introduction Module 8
Managed Services
Airlines and Airports
Military
Elementary and Secondary Schools
Colleges and Universities
Managing Managed Services
Sustainable Managed Services
Health Care Facilities
Business and Industry
Leisure and Recreation
Trends in Managed Services
Hospitality: An Introduction Module 9
Tourism
What is Tourism?
The Five Ages of Tourism
Rail, Automobile, and Coach Travel
Airlines
Cruise Ships
The Economic Impact of Tourism
Promoters of Tourism
Business Travel
Ecotourism
Hospitality: An Introduction Module 10
Recreation, Attractions and Clubs
Recreation, Leisure and Wellness
Government-Sponsored Recreation
Commercial Recreation
Disney and Universal Studios
Regional Theme Parks
Animal Attraction
Historic Places/Sites
Museums and Performing Arts
Destinations
Noncommercial Recreation
Hospitality: An Introduction Module 11
Gaming Entertainment
The Casino Resort
Types of Casino Operations
Comps 
Components of Casino Resorts
Evolution of Gambling and Casinos
Working in a Casino Resort
Casino Operations
Sustainability in Gaming Entertainment
Hospitality: An Introduction Module 12
Meetings, Conventions and Expositions
Key Players in the Industry
Types of Meetings and Conventions
Types of Associations
Historical Associations
Venues
Convention Centers 
Conference Centers
Sustainable Meetings and Conventions
Hospitality: An Introduction Module 13
Special Events
What Event Planners Do
Challenges and Tools for Event Planners
Classifications of Special Events
Required Skills and Abilities for Planners
Special Event Organizations
Sustainability in Special Events
The Special Events Job Market
Trends in the Special Events Industry
Hospitality: An Introduction Module 14
Leadership and Management
Leadership
Example of Excellence in Leadership
Hospitality Management
What is Management?
Managerial Skills
Sustainable Leadership
Distinction Between Leadership and Management
Ethics
Trends in Leadership and Management 
**Outlines are subject to change, as courses and materials are updated.**
Ed4Career is committed to being both environmentally conscious and making it easier for you to study! We're making your education mobile! All of our textbooks are now provided as eTextbooks. You can access them on your laptop, tablet, or mobile device and can study anytime, anywhere.
The move away from physical books to eTextbooks means you get the latest, most up-to-date version available. This also makes your training more accessible, so you can study anywhere you have your phone or tablet. The best part is that all materials are included in your training cost so there are NO extra fees for books!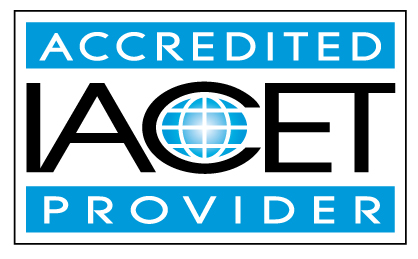 Ed4Career has been approved as an Accredited Provider by the International Association for Continuing Education and Training (IACET). In obtaining this accreditation, Ed4Career has demonstrated that it complies with the ANSI/IACET Standard which is recognized internationally as a standard of good practice. As a result of the Accredited Provider status, Ed4Career is authorized to offer IACET CEUs for courses and programs that qualify under the ANSI/IACET Standard.
The Continuing Education Unit (CEU) was created by IACET as a measurement of continuing education. One (1) IACET CEU is equal to ten (10) contact hours of participation in an organized continuing education experience under responsible sponsorship, capable direction, and qualified instruction. Under IACET's care, the IACET CEU has evolved from a quantitative measure to a hallmark of quality training and instruction. For more information on IACET, visit iacet.org.
Internet Connection
Broadband or High-Speed - DSL, Cable, and Wireless Connections
*Dial-Up internet connections will result in a diminished online experience. Classroom pages may load slowly and viewing large audio and video files may not be possible.
Hardware Requirements
Processor - 2GHz Processor or Higher
Memory - 1 GB RAM Minimum Recommended
PC Software Requirements
Operating Systems - Windows 7 or higher
Microsoft Office 2013 or higher. Also, you could use a general Word Processing application to save and open Microsoft Office formats (.doc, .docx, .xls, .xlsx, .ppt, .pptx)
Internet Browsers - Google Chrome is highly recommended


Cookies MUST be enabled
Pop-ups MUST be allowed (Pop-up Blocker disabled)

The Kindle Reader App or VitalSource Bookshelf App are needed for many of our courses (No special equipment needed. This can be downloaded for FREE onto your computer.)
PowerPoint Viewer (if you do not have PowerPoint)
QuickTime, Windows Media Player &/or Real Player
MAC Software Requirements
Operating Systems - Mac OS x 10 or higher with Windows
Mac office programs or a Word Processing application to save and open Microsoft Office formats (.doc, .docx, .xls, .xlsx, .ppt, .pptx)
Internet Browsers- Google Chrome is highly recommended


Cookies MUST be enabled
Pop-ups MUST be allowed (Pop-up Blocker disabled)

The Kindle Reader App or VitalSource Bookshelf App are needed for many of our courses (No special equipment needed. This can be downloaded for FREE onto your computer.)
PowerPoint Viewer (if you do not have PowerPoint)
Adobe PDF Reader
Apple QuickTime Media Player